While casually surfing the internet to look for more details on the Cross Island Line's (CRL), we came across an
interview with Henry Foo
, a director on the Thomson-East Coast Line with the Land Transport Authority (LTA). Portions of his interview gave light on potential construction firsts for the local rail scene in Singapore.
We were drawn in particular to one portion of the interview:
We are also going to use a big diameter Tunnel Boring Machine (TBM) for a future line. Currently in Singapore, the TBMs used to construct bored tunnels between stations are all 6.6m in diameter. We're already looking at big-diameter TBMs in the range of 10-15m to construct such tunnels, using single bore instead of twin bore.
Mr. Foo mentions that the team is exploring the use of a large-diameter TBM to construct a single tunnel which would be used for trains travelling in two different directions. This would cut down on the amount of equipment that needs to be purchased as only a single machine is required instead of two for the construction of the rail tunnels.
An excerpt from a LinkedIn profile stating use of single bored tunnel design for CRL.
Source: LinkedIn
From information found, we are able to confirm that the future line alluded to by Mr. Foo would be the CRL. In particular, Arup is in charge of contract C1005 which covers the eastern portion of the eastern leg - notably in areas of Changi East and Loyang.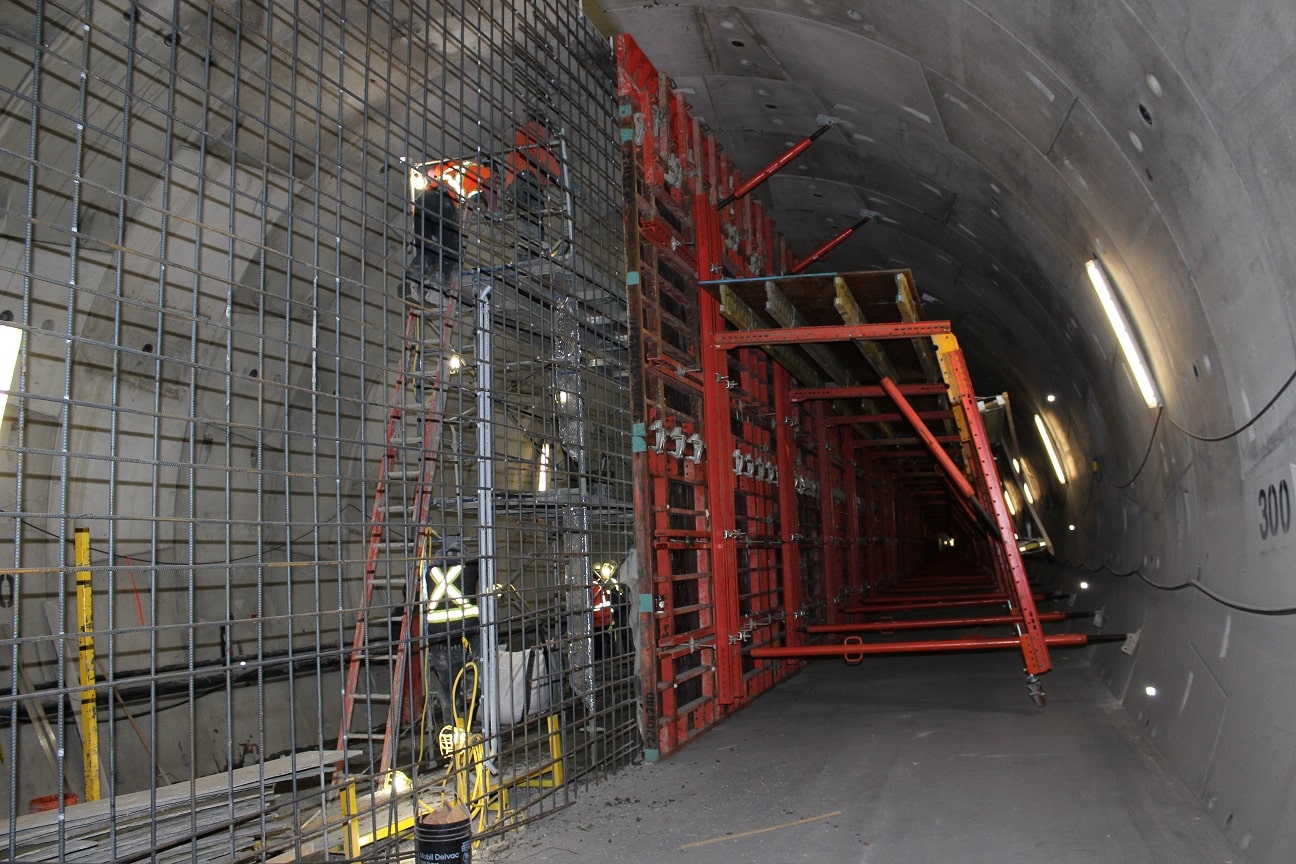 An example of a single bore tunnel used to house two bounds of rail travel on the Vancouver Skytrain Evergreen extension.
Source: Tunnelingonline
One such example of the single bore-two bound tunneling method can be found in Vancouver on the Skytrain network. In constructing the Evergreen extension, a tunnel segment was constructed using a single large diameter TBM. Following the completion of tunnel boring works, a separating wall was installed in the tunnel to keep both bounds of the railway separate. This is important for fire separation and safety purposes and also prevents incidents of derailment from affecting the other track.
Such a construction technique may be utilised in areas where construction work may be restricted - such as passing under runways or through nature reserves. The application of this construction technique, however, does not mean that the LTA has selected the option to tunnel under the Central Catchment Nature Reserve. Nonetheless, wherever put to use, such a technique would be a first in the local rail construction scene as construction techniques become more diversified.